Instant Garage, Shelter, Long 12 W x 24 L x 8 H
✔️ FREE Shipping
✔️No Tax ( Except Texas)
✔️BBB Accredited
✔️Authorized Dealer
Sold out
Original price
$1,349
-
Original price
$1,349
Estimated Shipping Widget will be displayed here! (with custom color)
Description
This instant garage measures at 12 feet wide by 24 feet long and 8 feet high. It provides the best portable protecting for any purpose. Typical uses include vehicle storage, maintenance space, and material storage. The extra spacious room is ideal for tools, workbenches, or additional items such as lawn equipment or outdoor toys. The rounded exterior frames is great for shielding your investments from rain and snow throughout the entire year.
The extended length of this instant garage makes it a great option for limousines, elongated trailers, and seasonal storage space. It's got maximum internal space and comes in grey or green color options for a great-looking extended instant garage.
Included
10 oz. UV Treatment Cover
8 Cable Earth Anchor Kit
2 Double Zipper Doors- 10'W x 6'H
1-5/8 Galvanized steel Frame
About the Manufacturer

Rhino Shelters by MDM products is committed to delivering the best portable garages and shelters in the industry. They have not only met industry standards but have set the industry standards since 2001 from their location in the heart of the Milford, CT business district. Their expert team is full of knowledge and experience delivering not only the best products but for the best value.

Exclusive Features
Heavy Duty All Steel Frame – Galvanized Finish
Two (2) Full Width Double Zipper Doors Standard with Hold Ups
10 oz. CPAI-84 Polyethylene Black Scrim Fabric Cover and Doors
All Pre-Drilled, Easy Bolt Together Assembly
Wind Brace Support on each Side
Complete Anchoring System Included
Excellent Vehicle & Workshop Size with Extra Space
Standard Specifications
Nominal Size

 

12′ Wide x 24' Long x 8′ High
Arches

 

Seven (7) on 48″ spacing
1-5/8″ diameter frame members
Standard End Door Size

 

10′ wide x 6′ high
double zipper door each end
Available ColorsOuter Colors: Green
All Interiors: Bright White Only
Shipping Weight 290 lbs. in Two (2) boxes shipped via motor freight
Pallet Dimensions
40″ x 75″ x 23″
Box Dimensions
Box 1: 57.5″ Long x 15.37″ Wide x 7.5″ High
Box 2: 73.62″ Long x 21.5″ Wide x 9″ High
Main Cover
UV protected 24 mil, fabric backed poly. 

10 oz. weight

Fire Retardant Standard
Main Cover & Doors meet CPAI -84 Section 5
Anchors
Six ( 6 ) 36″ Anchors with U-Bolts & Drive Rod
Stock Number
12x24x08- GA122408RGN



Rhino Shelter's cover fabric is unmatchable against other manufacturer's materials.
Rhino Shelter, uses an impressively strong fabric membrane that requires minimal maintenance. The material is a triple stack weave that has unmatched strength-to-weight ratios. All Rhino Shelter covers are made with 10oz per square yard material. We measure our fabric in yards but in meters our fabric comes out to be 12oz per square meter. Rhino Shelter fabric can be found on any Rhino Shelter portable shelter. 
All Rhino Shelter fabric membranes feature a bright white underside that allows for maximum interior light. This makes for a pleasant, bright atmosphere inside the portable shelter.
Most important, ALL Rhino Shelter instant garages have a special layer in between the outer and inner layers called an Inner Black Scrim. The Inner Black Scrim has a coating that blocks 100% sunlight from penetrating through the material. The UV rays from the sun are very harmful to the material and the Inner Black Scrim helps to extend the life of our covers beyond those of our competitors! Along with protecting the cover, this also provides for cooler temperatures inside the portable shelter during the warmer months of the year.
All Rhino Shelter cover fabric is infused with a special chemical inside and outside to protect it against the sun's harmful UV Rays. This special chemical not only coats the outer fabric for protection against UV Rays but also makes the material waterproof as well as giving it protection against scuffs to preserve the outside appearance.
Rhino Shelter heat welds all seams to go up and over the width of the portable shelter.This gives the material a drum tight fit over the frame of the portable shelter. This welding technique also adds strength to the cover's weight ratio. The fabric will stay tight and secure on the frame and will not only give it a cleaner look, but also help the cover to last longer. We can proudly say that our covers are wrinkle free.
Rhino Shelter instant garages are also used for temporary workshops. Many people use heaters inside to heat the portable shelters during the winter months. To this end, we also provide a chemical that makes Rhino Shelter covers fire retardant that meets even the California building code called CPIA-84.This is used on the end panels as well as the main cover. A fire retardant material is just another way we separate our covers against other manufacturers.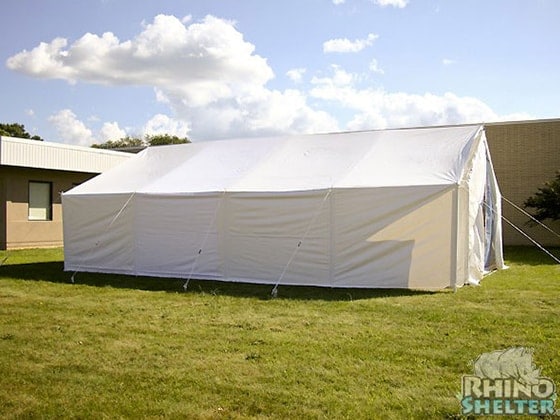 Important Rhino Shelter Cover Material Specifications:
10oz per sq yard / 12oz per sq meter fabric weight.
10% UV chemical treatment.
Triple Stack Weave provides unmatched strength.
Multiple color choices (green, gray, tan).
Inner Black Scrim material (blocks 100% UV).
White interior underside for light reflection.
Reinforced rope above grommets are heat-welded to prevent grommets from pulling out. (fabric stays tight for longer life and cleaner look).
Special coating on the outside to provide UV protection, waterproofing, and scuff protection to preserve appearance.
2 Year Warranty (no prorating).
Material is made of a Rip-Stop-Poly that prevents any rips that occur from expanding.
Material is fire resistant and meets the California building code CPIA-84. Material will self-extinguish if the source of the flame is removed.
Rhino Shelter uses T-100 Welding
Machines by Miller Weldmaster to heat weld our covers.
Steel Tubing Details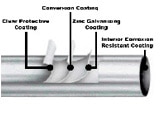 Rhino Shelter's Heavy Duty Galvanized Structural Steel Tubing
Rhino Shelter's Steel Tubing is unmatched against other manufacturer's materials.
Rhino Shelter's galvanized steel tubing is the product of choice for portable garages and portable buildings. The unique double-dipped process provides a triple layer of corrosion protection inside and out that stands the test of time.
All Rhino Shelter portable garages from the 5x10x8 Cycle Cabana to the 40x60x18 Domed Truss Building (with the exception of the Party Tents, Party Canopies, and Steel Carports) use Rhino Shelter's heavy duty galvanized steel tubing. This ensures that all of these buildings are built to last and will hold up against harsh winds and heavy snow.
The process begins with flat strip steel, which is cold-formed and induction welded. After welding the tube goes through two coating baths. The first coating bath bonds zinc to the hot tubing and is followed by a conversion coating which provides another layer of protection for longer resistance to rust and corrosion.
The second and final protective coating bath involves a clear organic polymer that gives the tube one last barrier against corrosion as well as giving the surface an attractive brightness. The result is a smooth, shiny end product that is unmatched in terms of strength and durability – it will not dull with age, nor will the coating flake off during building construction.
Important Rhino Shelter Steel Tubing Specifications:
Tubing Diameter and Guage Of Buildings
| | |
| --- | --- |
| • | 5x10x8 – Heavy Duty Structural Steel Tubing Diameter 1 5/8″ |
| • | 8x8x8 – Heavy Duty Structural Steel Tubing Diameter 1 5/8″ |
| • | 12x12x8 – Heavy Duty Structural Steel Tubing Diameter 1 5/8″ |
| • | 12x20x8 – Heavy Duty Structural Steel Tubing Diameter 1 5/8″ |
| • | 12x24x8 – Heavy Duty Structural Steel Tubing Diameter 1 5/8″ |
| • | 12x24x10 – Heavy Duty Structural Steel Tubing Diameter 1 5/8″ |
| • | 12x28x12 – Heavy Duty Structural Steel Tubing Diameter 2 3/8″ |
| • | 22x24x12 – Heavy Duty Structural Steel Tubing Diameter 2 3/8″ |
| • | 30x30x15 – Heavy Duty Structural Steel Tubing Diameter 2 3/8″ |
| • | 30x40x15 – Heavy Duty Structural Steel Tubing Diameter 2 3/8″ |
| • | 40x60x18 – Heavy Duty Structural Steel Tubing Diameter 2 3/8″ |